Case-Competition for the Innovation Award of the Walter-Eversheim-Foundation
The Case-Competition 2011/2012 has been a complete success!

Once again, the Walter-Eversheim-foundation granted the "Service Innovation Award" in cooperation with the FIR at RWTH Aachen University. Students from all courses of study were given the opportunity of participating in a very special event.

We congratulate the winning team "JAPH": Hans Heikenfeld, Andre Heßler and Jan-Phillip Scheifers managed to get ahead of the opposing teams and win the "Service Innovation Award".

Please visit the news-section for further information.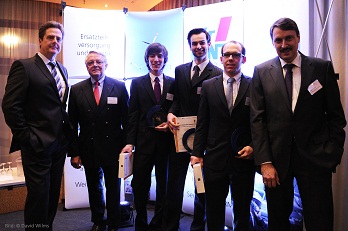 from left to right: Professor Volker Stich, Professor Walter Eversheim, Jan-Philip Scheifers, André Heßler, Hans Heikenfeld und Andreas Meisel.